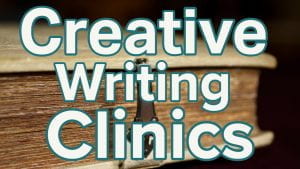 Writing creatively isn't always the easiest thing to do. Stories don't always tell themselves. Sometimes, most times, a story must be teased out of itself like a small plant leaving the protective seed. In situations like this, writers need additional help to tell the story they want to tell. In situations like this, it helps to have someone to talk to about your story. Someone to bounce ideas off. Someone who can provide effective feedback.
This is where my Creative Writing Clinics come in.
What is a Creative Writing Clinic?
Creative Writing Clinics provide students the opportunity to come into my class after school and work on their own writing. Whether it's a story they are working on in class, something they are doing for another class, and a creative piece they are working on independently, the Creative Writing Clinics are an opportunity for students to work one on one with me and other students to better their writing.
It's also a place for students to write in a writer-friendly environment without interruption or pressure.
When are the Creative Wiring Clinics?
Creative Writing Clinics are held every Thursday from 1:45 until 2:30. Students who ride the bus will be given to those students who attend.